"Masters May open the door…but you must walk through it yourself"-Anom

YOU ARE NOT ALONE - WE ARE HERE FOR YOU.
During uncertain times, keeping your mental well-being is more important than ever! Don't let your symptoms worsen, while waiting until "things get better, or life gets back to normal or like it used to be."
Our TOP Priority is to support the Mental/ Emotional Health and Relationships of our Patients. This includes, Providing culturally -sensitive Psychology Services In-Person and by Phone or Video Appointments, with the Benefit of Seasonal Special Rates of - 10% to 25%, on Telehealth services from the Safety and comfort of your home.
Call us : (303) 317-6265!

Enjoy our "Seasonal REDUCED RATES Specials"
Are you, or someone you care for, struggling with Fear, Anxiety, Depression, Panic, Grief, Trauma or other issues as a result of Childhood, Past or Present Adverse Events?
Are you Feeling overwhelmed by Stressful situations , by unexpected losses and life's challenges or with unwanted life changes?
Are you Seeking a Spanish/Bilingual Psychological Evaluation for your Immigration application?
Find out more by speaking to a specialist today at 303-317-6265 . If we are busy helping others, please leave us a message and we will get back to you within 24-hours. Let expert Bilingual/Spanish Psychologists, assist you to successfully navigate difficult times .
How Can we Help
Our In-person and Tele-Video Bilingual/Bicultural Mental Health services will provide individuals, parents, educators, community leaders, faith communities' leaders and employers, and the like, with knowledge, practical tools and effective strategies to better cope with the emotional, physical, and interpersonal impact that unexpected situations or events (e.g. Unexpected loss, health issues, divorce, natural or man -made disaster, etc.) can have in a person or family life or in one's community .
We do so, through Bilingual Counseling, Therapy and Coaching , Spanish/Bilingual Psychological Evaluations for Immigration, Parenting Consultation and Trainings, Workshops for families and Organizations , Latino Cultural Competence Consultation and more.
In a comfortable and supportive atmosphere, we offer a highly personalized approach tailored to each client's culture, needs , expectations and goals to help clients attain the skills, the change and growth they are striving for.
"Life isn't about waiting for the storm to Pass…It's about learning how to dance in the rain" Green
All services are provided in Spanish and/or English.
Enjoy convenient schedules: Monday - Friday : 9am - 8pm. Saturdays & Sundays : 9am - 6pm. Sundays by appointment with an affordable surcharge.
Please Click on each of the following services for more information:
►Bilingual Therapy/ Spanish Counseling
►Bilingual Psychological Evaluations
►Bilingual-Spanish Workshops /Groups
►Consultation Services for Professionals & Organizations
►Bilingual Training & Educational Services
Bilingual Therapy/ Spanish Counseling and Coaching

For Individuals, Couples, Families, Groups & Organizations.
For your convenience we offer this valuable service in the format that better suits your preference and life style: In vivo/Face to Face Therapy, or you may choose our Online VideoTherapy services services, If geographical distance, or other reasons, may prevent you from driving to our office.
In a Safe, Nurturing and Supportive atmosphere for you to experience renewal and growth, you may learn how to better manage any of the following issues... before they manage you!
We specialize in the following treatments:
Counseling / Therapy for Anxiety and Panic

Counseling/ Therapy for Depression & Low Self- Esteem

Crisis Intervention & Stress management

Grief - Loss Counseling

Trauma Counseling

Pre-Marital preparation: PREP & FRAME based-programs.

Bilingual Marriage Counseling, Sexuality & Intimacy

Family Therapy Reunification, Parenting Support

Conflict Resolution & Anger management Therapy

Pre-post Divorce counseling

Cultural Adaptation, Discrimination & Interracial Concerns

Behavioral & Emotional Problems due to Relocation

Life meaning and direction

Work & career concerns

..More information
Bilingual Immigration Psychological Evaluations
For Immigration, Clinical, Academic or Vocational Purposes. More...

Bilingual-Spanish Groups: On site & Online.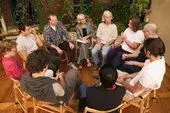 Relevant topics for Professionals, Adults & Children.
Preventing and Conquering Depression & Anxiety; Communication enhancement for Couples...More information


Consultation Services for Professionals & Organizations

Latino Cultural Competency for Assessment & Intervention with Latinos.
Mental Illness Prevention, and ...More information..
Bilingual Training & Educational Services

On Site & Online
Prevention Mental Health Presentations

Latino

Cultural Competency Trainings
Webinars & Telecourses
Clinical Supervision
Teaching
Whether you're looking for professional support and guidance or you're just ready to move in a new direction in your life, Call Us! We will uncover together long-standing unhelpful, defeatist behavioral, emotional and thinking patterns that may be blocking you and your achievement potential.
We rely on culturally sensitive, researched based treatments and practices to help you lead the Life you deserve. If you would like to invite Dr. Barrera or one of her associates to deliver a lecture or presentation at your site , organization, school, faith- based organization, or in your home, please contact us below.